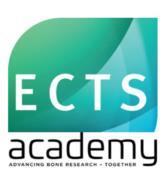 ECTS has always cared deeply for the development of the "younger" members of the society and, in that spirit, always endeavours to provide a programme that encourages, motivates and inspires the early career members. The ECTS academy has therefore put together a series of events to take place during the conference aiming not only to expand your knowledge and give you an opportunity to present in public in a less intimidating environment, but also to network, get advice and, why not, have some fun. Whether you have just started your PhD, you have been a postdoc for more years you care to count or you are a stablished professor who is young at heart, join us for this year's ECTS New Investigator programme.
Our programme starts on Friday 10th of May with the working group on animal models, which this year is dedicated to pre-clinical cancer models, histomophometry and cre-lines. We encourage all members of the society to attend these working groups as the advice given by the experts is truly invaluable and will help with future experimental design. Please remember to sign to the working groups when you register on the first day, as spaces are limited.
As the society is also reaching to the other international societies, and due to last year's fantastic success, we are hosting a Next generation synergy session where new investigator representatives from various societies present the current hot topics in their country/continent.
Our poster tours are no longer tours per se, as it was hard to hear in the poster hall. Last year we changed to a more intimate setting where you can sit and have your lunch while having a proper scientific debate with the highest ranking clinical and basic poster abstracts. Poster focus will take place on Sunday and Monday at lunch time.
The new investigator Mentoring Session is one of the most popular events we organise and it offers the opportunity of Networking with peers and well established scientists who are willing to share their experiences with us in a super relaxed environment.
In the New Investigator seminar, outstanding abstracts by new investigators are presented among your peers, in a session mostly full of Junior scientists/clinicians. In this way, we provide a more relaxed environment not only for those presenting, but also for asking questions and engage in the debate.
Last, but not least, we have organised a charity event consisting in a five-a-side football tournament (right by the conference centre) to raise money for a local rare diseases patient organisation. So get your teams together, bring some appropriate gear to the conference, relax, and above all, have fun. Registration for this event will be announced soon.
Friday 10.5
14.00-16.00: Working group on animal models.
18.45-20.45: Next Generation Synergy Session.
Sunday 12.5
12.30-13.30: Poster Focus
19.00-20.00: New Investigator Mentoring Session
Monday 13.5
12.30-13.30 Poster Focus
19.00-20.00: New Investigator Seminar
20:00-22:00: Charity event – Five-a-side football tournament.