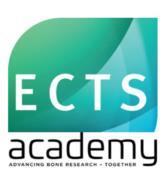 The ECTS Academy has been working hard on an exciting program to support and showcase great science, particularly from New Investigators (https://www.ects2020.org/programme/). These sessions are open to everyone (but some pre-registration is required, so get in early!).
Friday 15th May: On the action-packed Pre-Congress Day, we are excited to present the world premiere of the ECTS Practical Session (14:00–16:00; Working Group 3). This is a 2-hour hands-on session on Learning how to Handle R, with expert instruction and using your own laptops. Places limited, and first-come, first-served, so register early. Friday also sees the ever-popular Mammalian Models Working Group (16:30–18:30) focussed on metabolism and bone marrow adiposity. In the evening, the Next Generation Synergy Session (18:30–20:30) is a series of short talks from international collaborating societies covering the most exciting developments in the musculoskeletal field, and is not to be missed.
Sunday 17th & Monday 18th May: We are proud to host the clinical and basic/translational Poster Focus Sessions (12:30–13:30). Delegates will have 10 minutes to present, discuss and answer questions, in a dedicated room with lunch provided, so look out for these sessions in your programme. The New Investigator Mentoring Session (19:00–20:00) is an informal, round-table session with the chance to interact with the best in the business, who have kindly donated their time to answer your burning questions. Topics this year range from industry to grants to publishing, and for the first time, how to combine your research with teaching and clinics. Snacks and beverages will be provided.
Monday 18th May: Last but not least, the New Investigator Seminar & Gathering (19:00-20:00) gives New Investigators the chance to present their work and compete for a crowd-voted prize. This should be a relaxed and social session so come along, meet your NI committee and gather your tribe together for light refreshments before the conference dinner later in the evening.
In between sessions, your home away from home is the NI Lounge. Mingle, meet and say hi to an Academy member (find us by our badges). We hope you enjoy the program, and look forward to meeting you in Marseille!