Defining the role of the FGF – autophagy axis in bone physiology
Live Webinar: 25 January 2017, 4-5pm CET
Webinar objectives:
Learn about the cutting-edge science and career paths of the most successful young scientists in Europe
Ask questions to better develop your own career plan
Learn from the questions of peers
Benefit from the knowledge of speakers on how to apply for ERC grants
Format:
25 min science presentation
10 min presentation of the career path
25 min Q&A
About the speaker:
Education:
2003-2008: Ph.D. in Molecular Medicine, Federico II University, Naples, Italy.
1997-2002: B.Sc. (Laurea) in Chemistry and Pharmaceutical technologies, Federico II University, Naples, Italy.
Current Positions:
Since 1/2013 Assistant Investigator, Telethon Institute of Genetics and Medicine (TIGEM), Pozzuoli, Italy
Since 1/2013 Assistant Telethon Scientist of the Dulbecco Telethon Institute (DTI)
Since 12/2012 Assistant Professor in Medical Genetics, Department of Translational Medicine, Federico II University, Naples, Italy
Since 9/2012 Visiting assistant professor, Molecular and Human Genetics Department, Baylor College of Medicine, Houston, Texas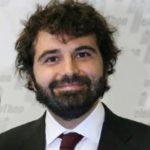 Research Interest
The main research interest of my laboratory is to understand the regulation and the role of the lysosomal-autophagy pathway in both physiological and disease processes. In particular, keeping in mind that the lysosomal-autophagy pathway is dynamically regulated in response to changes in the extracellular environment, my laboratory is exploring the hypothesis that the developmental regulation of this pathway is an important contributor to organismal development and growth. Currently, my laboratory is investigating the role of the lysosomal autophagy pathway during skeletal development and growth. We decided to focus on the bone because the role that catabolic processes play in the regulation of skeletal growth has not been defined yet. The observation that mutations in more than 20 genes encoding for lysosomal proteins causes defects in skeletal growth in human suggests that lysosomal pathways play an important, yet unexplored, role during skeletogenesis.
Using a combination of mouse genetics, cell biology and pharmacological approaches my lab has recently demonstrated that autophagy is induced in growth-plate chondrocytes during post-natal development and regulates the secretion of type II collagen (Col2), the major component of cartilage ECM. Surprisingly, the post-natal induction of chondrocyte autophagy is mediated by the FGF signaling, demonstrating that autophagy is a developmentally regulated process necessary for bone growth. In the next years my lab will focus on determining the molecular mechanisms by which FGF signaling pathways control autophagy in chondrocytes and osteoblasts and on the identification of the physiological roles of autophagy in bone and cartilage. In particular, we sought to identify the molecular machinery involved in the recognition of collagen molecules by autophagy, a process that we named "col-phagy". In addition, we plan to explore the therapeutic potential of the pharmacological modulation of autophagy as treatment of skeletal dwarfisms. These studies will have the potential to identify new pathways through which growth factors regulate cellular catabolism, to explain how catabolic processes support anabolic pathways in vivo, and to provide proof of principle that developmental disorders may be treated by modulation of cellular metabolism.
Top five publications
Cinque L, Forrester A, Bartolomeo R, Svelto M, Venditti R, Montefusco S, Polishchuk E, Nusco E, Rossi A, Medina DL, Polishchuk R, De Matteis MA, Settembre C (2015). FGF signalling regulates bone growth through autophagy. Nature 528(7581):272-5. doi10.1038/nature16063.
Settembre C, De Cegli R, Mansueto G, Saha P, Vetrini F, Visvikis O, Huynh T, Carissimo A, Palmer D, Klisch T, Wollenberg A, Di Bernardo D, Chan L, Irazoqui J, Ballabio A (2013). TFEB controls cellular lipid metabolism through a starvation-induced autoregulatory loop. Nature Cell Biology. 15(6):647-58. doi: 10.1038/ncb2718.
Settembre C, Zoncu R, Medina DL, Vetrini F, Erdin S, Erdin S, Huynh T, Ferron M, Karsenty G, Vellard MC, Facchinetti V, Sabatini DM, Ballabio A (2012). A lysosome-to-nucleus signalling mechanism senses and regulates the lysosome via mTOR and TFEB. EMBO J. 31(5):1095-108. doi: 10.1038/emboj.2012.32.
Settembre C, Di Malta C, Polito VA, Garcia Arencibia M, Vetrini F, Erdin S, Erdin SU, Huynh T, Medina D, Colella P, Sardiello M, Rubinsztein DC, Ballabio A (2011). TFEB links autophagy to lysosomal biogenesis. Science. 332(6036):1429-33. doi: 10.1126/science.1204592.
Settembre C, Arteaga-Solis E, McKee MD, de Pablo R, Al Awqati Q, Ballabio A, Karsenty G (2008). Proteoglycan desulfation determines the efficiency of chondrocyte autophagy and the extent of FGF signaling during endochondral ossification. Genes Dev. 22(19):2645-50. doi: 10.1101/gad.1711308.